Pin It Now!

Art Studio Desk
I was going for a very "ARTSY" distressed look on this one because it's my desk in my art studio. I love the way it turned out but I wouldn't have distressed it this much if it had been in any another room of my house. I used ASCP "Graphite" with clear wax on this piece.
I didn't get very good "
before
" pics of this desk. It was formerly spray painted black with a shiny, drip-splattered paint. Let me just say that I couldn't wait to get my sander on this baby! It was only after I had been sanding for a little while that I realized I hadn't photographed it... oops!
AFTER: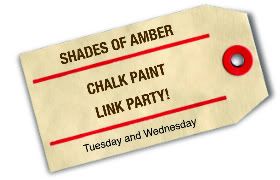 Pin It Now!